Reflection activities can happen in many contexts and can be used to develop community  among students. Sonya Cunningham, of the University of Washington shared with us her activity "Have you made good choices today?" and it was also highlighted by the Seattle Times. See the article below!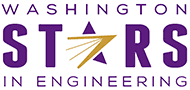 UW's STARS helps low-income students shine
by Jerry Large, Seattle Times
Good students from low-income backgrounds soar to meet high
expectations at UW.
Usually when I think about helping kids succeed, I have in mind young children in the most dire circumstances, the ones who might not make it through school or might wind up in jail. But sometimes
even being an A student isn't enough for a young person to reach her potential.
Ewurama Karikari and Trinh Ha were both top students in high school. Mount Tahoma in Tacoma for Ha and Bethel High School in Spanaway for Karikari. The freshmen made the winter-quarter dean's list at the University of Washington, but might not have even attended the UW if not for a little help. Being there is good for their futures, and good for the UW, too.
Eve Riskin, professor of electrical engineering, told me the problem-solving work that engineers do benefits from the diversity of approaches that different life experiences create.
Riskin is also associate dean of diversity and access in the College of Engineering. And she sent me a note about a program just in its second year, called State Academic Red Shirt or STARS. She'd just gotten the winter-quarter grades and told me 11 of the 30 STARS students made the dean's list. The Times wrote about the program last fall, but it's been fine-tuned, so I asked what's getting results.
The key ingredients are students who have shown they can stick to hard tasks, and a staff that brings tough love and high expectations.
We all know how competitive that access to the best education has become, and the stakes just keep rising. That's particularly true in STEM (Science Technology Engineering Mathematics) fields and at the most selective universities.
STEM programs cry that they're not getting enough students, but they turn away large numbers of applicants because they want students who come out of high school prepared to plug into their programs without a hitch.
And that means they admit few students from low-income families who are likely to live in neighborhoods where educational opportunities are not equal to those in more upscale areas. The UW College of Engineering isn't where it wants to be, but is more diverse than most of its peers because it makes an effort to bring in both underrepresented minority students and women.
A few years ago, I wrote about the college's summer program for high-school students, Math Academy. It gave students a boost, but four weeks in the summer wasn't quite enough to draw as many students into the college as it wanted. So the UW adopted the STARS idea (Washington State University did, too), paying for it with temporary grant money, primarily from the National Science Foundation.
Sonya Cunningham, who runs the UW program, said she gets a list in January or February of students who are applying to the UW as freshmen, and who attend schools with a significant percentage of low-income families.
She has current STARS students call them and talk up engineering. Then Cunningham evaluates them, looking for one trait in particular: perseverance. If they have good grades and grit, they have a good chance of succeeding in the intense program.
The students I spoke with said math work in the program was harder than they expected and even more challenging than what they later faced in class. The intent is to quickly get them up to where they need to be to compete with students who've had more math programs, a higher level of instruction and extracurricular enrichment.
Their first quarter, students get lessons in how to negotiate college, how to fit in with the culture. They work on academic and study skills.
Cunningham does proactive advising to head off potential problems ("Have you made good choices today?"), and from the start she molds them into a supportive community. She brought them together the week before classes started last fall and gave a $50 gift certificate to the first person who learned everyone's names.
Ha won and said the students started bonding that week. "We can understand each other," she said. And Karikari said, "We're all really great friends and can call on each other."
Two students fell behind during the fall quarter, and Cunningham applied some tough love. Some tears were shed, but the next quarter both were doing better. One of them went from a 2.2 GPA in the fall to the dean's list in the winter.
Cunningham, who grew up in a low-income household in New York City, and who made it to college only because of the intervention of a teacher, feels a special kinship with the students. "This is coming full circle for me," she said. "It's my passion, and I love it."
Karikari is interested in getting a Ph.D. in mechanical engineering, and Ha is interested in renewable energy and wants to work in industry. It's a good bet STARS will help them realize their dreams.
Original post:  http://www.seattletimes.com/seattle-news/uws-stars-helps-low-income-students-shine/
Jerry Large's column appears Monday and Thursday. Reach him at 206-464-3346 or jlarge@seattletimes.com. Twitter @jerrylarge.